Overview
Arecanut is one of the major plantation crops in India which is grown with an annual production of 4,15,000 tonnes per year. It is estimated that the Annual turnover of the Arecanut is above 50000 million per year.Over 7 million farmer families are involved in Arecanut cultivation which imply that above 20 million of the total Indian population is directly depending on arecanut farming for their survival.Above 60 million population of our country is depending on Arecanut for their livelihood by way of labour in Arecanut gardens.Basically Arecanut cultivation has become a way of life particularly in South India. The current production of arecanut in the world is about 7.65 lac tonnes.
Arecanut finds an important place in all religious, social and cultural functions of our people.India is the largest Arecanut producing country in the world.The cultivation of Arecanut is mostly confined to the states of  Karnataka, Kerala & Assam  but consumption is spread all over the country.Of late Arecanut has been treated as a commercial crop by the modern economists and commercial experts.
Establishment of the Arecanut Research & Development Foundation [ARDF]
A delegation of the President of The CAMPCO Ltd, Sri S R Rangamurthy, Vice President of the CAMPCO Sri K Ganapathi Bhat, Directors – Sri. B Nagaraja Shetty, Sri L N Kudoor, President of All India Areca Growers Association – Dr. P K S Bhat, Secretary – Sri Manchi Srinivasa Achar met Dr. D. Veerendra Heggade, Dharmadhikari, Shri Kshetra Dharmasthala, who, not only interested in agriculture but also personally a progressive agriculturist and the President of Shri Kshetra Dharmasthala Rural Development Project. Discussing various issues concerned to the filed under the guidance of Dr. D. Veerendra Heggade, Arecanut Research & Development Foundation [ARDF] was registered on 20 May 1998.
Beneficiaries of the Foundation
The benefit of the foundation [ARDF] has been reserved for the following
Every Indian Arecanut grower and his family members
Focusing on the welfare of the Arecanut grower without caste, colour or creed discrimination
Office of the Foundation
The foundation functions from The Head Office, The CAMPCO Ltd, Mangalore.
Photo Gallery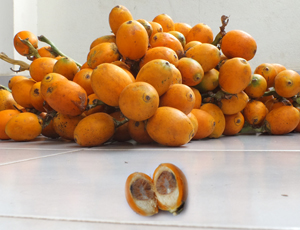 Quick Contact
Arecanut Research & Development Foundation (R)
Varanasi Towers, Mission Street
Mangalore - 575001, Karnataka, India
Telephone: +91 824 2441584
Fax: +91 824 2421407